This is an effort to bring musicians under a common organic platform of open free music sharing each other's influences from around the world.
The project picks it's influences Rural Bengal, Pan India, West Africa, Sukous, Nepali folk, Gypsy music, Middle East, Old time swing and American folk music, Quwalli, along with Reggae, Jazz, Afro Cuban music, Celtic standards and Retro Bollywood, blending into a unique melange, that enables people to participate into a dancy trancy vibe.
The project is also aiming at building new originals and focuses on simple impromptu jams. In other words, every moment of creativity is unique to every concert and every jam, both sonically and emotionally. We play Live music!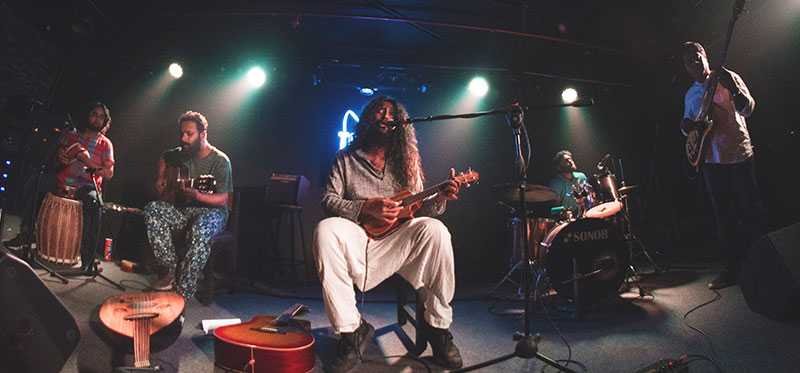 Arko Mukhaerjee Collective Members
Nitin Mani – Bass
Arko Mukhaerjee – Vocals/Ukulele
Koustav Dey – Guitar
Sounak Roy – Drums and Percussion
Sajib Sarkar – Indian Percussion
Videos by Arko Mukhaerjee Collective
Arko Mukhaerjee Collective | The Folk Express | A Journey through Nepal Bengal and Ireland | Bala Jouban – Saltoley – Auld Triangle | Rooftop Live
This is a friendly early summer morning jam on a city rooftop between 5 friends. We call it the folk express as it isa musical journey on a nameless train that travels through the valleys of Nepal, the arid lands of tribal Manbhum to the prison cells along the banks of the royal canal in England where a captive soul depicts his everyday mundanity through a simple song.
The songs are folk tunes namely
Bala Jouban (Nepali traditional song), Saltole Bela Dubilo (a tribal folk tune from Manbhum, Bengal) and The Auld Triangle, an Irish folk classic that was first used in Brendan Behan's 1954 play "The Quare Fellow". Our due regards to all the folk artists who have played these songs before us.
This is in memory of Jhalak Man Gandharba, one of the legends of Nepali folk music.
Recorded and mixed by Sourav Bagchi
Video shot and edited by BeardBoy Films
All rights of this production owned by www.arkomusic.com