"FIVE" is about exploring Five folk music forms that has inspired Bengali traditional music over the last five decades, through five musical collaborations and presenting the songs in a modern contemporary organic soundscape of today.
The evolution of Bengali language and music has happened due to many reasons. Sometimes, it happened, as a result of a group of working class people or artists, consciously adapting to a cultural change due to an immigration oriented, religious or socio – cultural phenomenon. On the other hand in some traditional and tribal music forms of this land, we can find, an ancient inherent Jungian character sharing characteristic similarities with many other root music forms from across the world, which is also due to an ancient unknown story of human migration that can be dated back to the root of mankind and it's necessity to move.
FIVE is five collaborations of Arko with five world musicians, forming five musical duos. Each one of these musicians have their own genres of expertise and have been professionally practicing their individual music internationally for many years. The album involves the use of folk instruments from different parts of the world. The traditional Irish Harp, the Rabab, the Dotara (a traditional Bengali Lute), the Nylon String Guitar, mixed Afro Cuban Percussions, the Dubki (a Bengali tribal Hand Drum), the Ukulele, the Banjolele and the traditional Bluegrass Mandolin.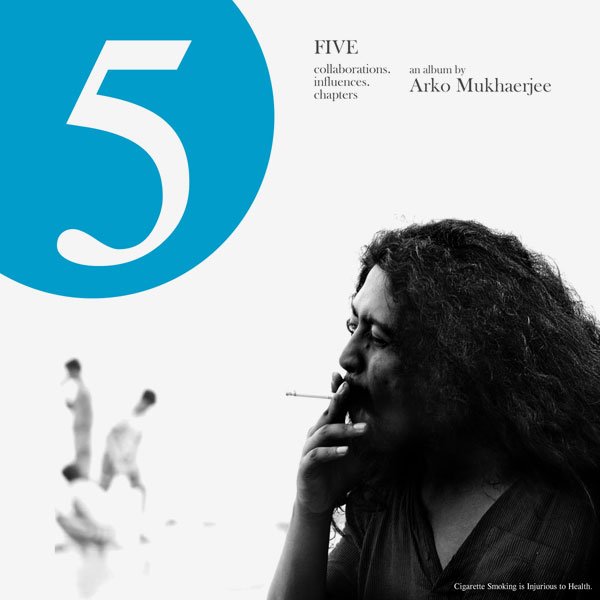 Each collaboration is a chapter and the chapters are named as follows:
Chapter 1
Two n Four (From Appalachia to the Ganges)
Diptanshu Roy, India (Mandolin and Banjolele)
Arko Mukherjee – Vocals, Guitar
Songs
Paal Uraiya De (Jasimuddin) – feat Rajarshi Barman on harmony vocals
Agey Janley (Jasimuddin)

Chapter 2

Gypsy (The Nomadic World)
Yann Beaujouan, France (Guitar)
Arko Mukherjee – Vocals

Songs

Kaaliya (Barun Das) feat. Ritoban Das on mixed percussions
Rumjhum Jhumjhum (Kazi Nazrul Islam) – feat. Arinjoy Sarkar on nylon string guitar

Chapter 3

Irish (Ballads from the West)
Anna Tanvir, Ireland (Harp)
Arko Mukherjee – Vocals, Guitar

Songs

Keno Cheye Acho (Rabindranath Tagore)

Chapter 4

Afro – Tribal (Searching for the Roots)
Ritoban Das, India (Dubki, a Bengali traditional hand drum and other Tribal Percussions from Indian and Afro-Cuban origins), Backing Vocals
Arko Mukherjee – Vocals, Ukulele

Songs

Chol Mini (traditional) – a tribute to Kali Dasgupta
Koto dine (Neelkantha Mukhopadhyay)
Resham Firiri (Nepali/Gandharva)

Chapter 5

Middle – Eastern and Central Asian (The Cry of Persia)
Satyaki Banerjee, India (Dotara, Rabab)
Arko Mukherjee – Vocals, Ukulele

Songs

Oi Mahasindhur O Paar (Dwijendralal Roy)
Manush morle Pore (Mansur)
All songs are recorded at Dream Digital Inc. Kolkata, India. The songs are mixed by Nitin Joshi, Pune, India and mastered by Chris Grahams, Ohio, United States of America.
Cover Design : Shamik Chatterjee
Digitally available worldwide on ITUNES, AMAZON, SPOTIFY, OKlisten.com, Gaana.com, and many more.
" Apart from all the wonderful artists I have played with in the album, I would like mention special thanks to Debasis Mukherjee, Aparna Mukherjee, Prasenjit 'Pom' Chakrabutty, Dipankar Chaki, Anindya Dutta, Karishma Siddiqui Roy, Alexandre Voisin, Sayan Ghosh, Anindit Roy, Tajdar Junaid, Willoughby Mulligan, Kim Mulligan, Maitreyee Mukherjee, Ronny Sen, Atomic Labs, Koustuv Dey, Anushree Tapadar, Suman Mukherjee, Tapabrata Bhakta, Saswati Sanyal, Gita Mukherjee, Anindita Sen, Antara Choudhury, Utsav Mukherjee, Barista, Indranil Shome, Grinning Tree, Fiddler's Green and many others who have been helpful in making this album possible. "
This album is dedicated to the memory of my grandfather late Amal Bhushan Mukherjee.
Music Videos From Album Five
1. FIVE | Arko Mukhaerjee | Chol Mini Assam Jabo | Music Video
2. FIVE | Arko Mukhaerjee | Paal Uraiya De | Music Video
Request For a Gig
Arko's official name is Arka Mukherjee.
However as an artist he chooses to use the name Arko Mukhaerjee.